Pakistan as a country
Pakistan got independence and was founded on 14th Aug 1947 after partitioning with India. People from both countries migrated in search of new homes as Hindus migrated to India and Muslims migrated from India to Pakistan. Pakistan became the Islamic Republic of Pakistan in 1956 and after 14 years of this another event happened and East Pakistan separated which is known as Bangladesh now. Pakistan has a population of Almost 220 Million People and it has 4 Provinces (Punjab, Sindh, Baluchistan, and KPK) & Kashmir State. Pakistan has its border with China in the North, India in the East and Iran in the South West, and Afghanistan in the West North. The people of Pakistan are friendly and their hospitality is famous.
NOTE: Pakistan is currently open for tourists and you need a Covid vaccination certificate to enter Pakistan.
What is there to see in Pakistan
Pakistan is four seasonal country with all kind of landscapes. If you are starting from South Karachi, You can visit the Beaches then travel to the central region Deserts, and Then north to the Mountains. There are Lush Green Mountains to Rocky and Mud Mountains. You will see forests, rivers, and valleys. This country is rich in culture and history. In fact, there is everything for everyone so don't miss it.
Overview of Major Cities & Valleys
Lahore: Culture, Food, Historical Sites, Famous Wagah Border Ceremony
Karachi: The largest city in Pakistan, Historical Sites
Islamabad: Capital of Pakistan Modern City
Taxila: Ancient Buddhist Heritage Sites more than the 2000 Years old
Peshawar: Old City with Old Bazar and Delicious Food, Different Culture
Swat & Kalam: Mountain Valley of Hindukuch Mountain Region
Kalash Valley (Bamburet): A Tribe with unique culture and religion
Hunza & Nagar: Valleys of 7 Mountains which are 7000m plus height, Karakoram Highway, Pak-China Border
Ghizer: Region of Beautiful Lake and River
Skardu: Largest region of the North with the World's second-highest mountain K2, Largest Glaciers, Largest Meadows Deosai Plain.
Pakistan Visa Process
You can apply for Pakistan Visa through the online visa portal, and always remember if you are not in your home country and applying from 3rd country, never mention you are not in your home country unless you have a resident permit or work visa. You should select you can be interviewed in the Pakistan embassy of your home country and pretend as if you are there, chances of the interview being called are less than 5% and you will get a visa without any trouble. If you will mention about 3rd country where you are traveling or currently residing you will be asked to submit Resident Permit or Work visa and failing to do so will lead to the rejection of a Pakistan Visa.

When you will apply for a visa you can be asked for a Letter of Invitation to submit which you can get from your close Pakistani Friend or from a Licensed Tour Company that is authorized to deal with Foreigners so you can get one from here https://adventureplanners.net/letter-of-invitation/ without booking any tour. Also never mention Traveling to Baluchistan or Kashmir Regions in your visa applications as these are restricted areas so naming them in your itinerary can lead to the rejection of your visa.
Visa Extension Process in Pakistan
Once you have arrived in Pakistan you are eligible to apply for a visa extension. You can apply for your Visa extension by using the online visa portal.
Upload the below Documents for Visa Extension
Copy of Passport First Page & Entry Stamped Page
Passport Size Picture
Sponsored Letter of Visa Extension from Tour Company or Close Pakistani Friend (Same as LOI)
Current Visa
The best way is to apply through an online visa portal at least 15-20 days before your visa expiry, you can log in and apply for an extension same as you have applied for a Pakistan visa, this process will take up to 15-20 days but once you have applied for a visa extension you can stay in the country and you can keep the submission receipt with you. if somebody stops you so you can show them this receipt as proof of visa extension. Visa extension Starts from the date it is approved.
Overstay in Pakistan
If your visa is expired and you are in Pakistan and want to leave you have to apply for an exit permit online which is accessible through this government website https://visa.nadra.gov.pk/exit-permit/
You have to buy a flight ticket before applying for an exit permit or if you are leaving the country by land border you can write a cover letter explaining your land border crossing. you will also see there is a requirement for a letter from the Ministry of the Interior in the exit permit documents submission you can simply upload your cover letter for the flight ticket in that and skip this letter as it's not required actually.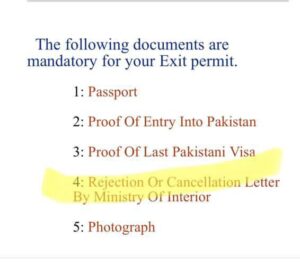 Arrival & Immigration
Immigration officers at the airport are friendly and the process will not take much time. You should have printed out your EVisa or ETA for Visa on Arrival. Process for on arrival visa can take an hour and for normal visa holders up to 5 minutes. If anybody at the airport asks for money never give them and ask them to present a receipt for any legal tax if there is any. They cannot stop you as you have a visa and are legal to enter Pakistan, sometimes someone can only ask for a bribe so never pay them a single penny.
Currency of Pakistan & Currency Exchange
The currency of Pakistan is Called Rupee and it doesn't have any symbol it's written as PKR. Money Changers are easily available in Major cities and you can search on Google about money changers you will get multiple options and go to the one that has the best rating. There are money changers at the airport but their exchange rate is not good so only exchange a limited amount at the airport. If you are traveling to Northern Area (Gilgit Baltistan, KPK) it's best to get your money exchanged in the cities to avoid inconvenience.
ATM & Banks in Pakistan for Foreign Cards
There are a few banks that accept all international cards and those are Bank Alfalah, Standard Charted Bank, Allied Bank, and HBL. Although Bank Alfalah is top one to accept international cards
Credit Cards Acceptance in Pakistan
Credit Card culture is not common in Pakistan and only high-end brands or big stores have the option of credit cards. it's always best to carry cash with you to avoid trouble while traveling.
National Language of Pakistan:
Urdu is the National language of Pakistan and is spoken in all parts and you can learn a few words which will help you in traveling.
Hello – Salam o Alaikum
Thank You –  Shukria
How are you? – Ap Kaisay Hain?
I am fine – Main Theek Hun
Bye – Allah Hafiz
One – Aik
Two – Dow
Three- Teen
Four – Chaar
Five – Paanch
Ten – Das
Hundred – Sow
Other Major Local Languages
There are many local languages in Pakistan but the major ones are Sindhi, Baluchi, Punjabi, Pashto, Saraiki, Shina, and Balti.
Seasons in Pakistan & Best Time to Visit
Pakistan has all four Season Spring, Summer, Autumn, and Winter, and at the same time you can enjoy Winter and summer because its spread over the south and north if you are in the south you can enjoy hot weather, and when you will travel to the north that would be cold at the same time. The best time to visit Pakistan is between March to November as most of the places remain open and easily accessible.
Spring: March-April
Summer: May-Sep
Autumn: Oct-Nov
Winter: Dec-Feb
If you are planning to Visit Pakistan during Ramadan then you may need to understand the culture and religion which prohibits people to eat during day time but you can have food in your hotels and try not to eat in front of people as they cannot eat. As a non-Muslim and foreigner, you can eat outside in public areas but ethically it doesn't look good. You can buy food from bakeries and super store at day time but restaurants remain closed and open up again in the evening. You can also find a lot of free food in the evening and people give food for free at many places every day.
Religions in Pakistan
The state religion of Pakistan is Islam and other Minorities are Christian, Sikh, and Hindus
Culture of Pakistan
As a Muslim-majority country people are Moderate Muslims and Culture is different from region to region. If you are in big cities you will see all kinds of people from all regions so it's a mix of cultures and people wearing Shalwar Qamiz (Local Dress) Pant Shirts and Jeans and you easily mix with them. If you are in interior Sindh where people are not very religious but you will find conservativeness in their culture so when you are in villages it's better to get permission if you are planning to take pictures. It's always best to be accompanied by a local person. People of these regions are friendly and you will often be asked to have tea or food with them it's part of the culture throughout Pakistan. Punjab in comparison to Sindh is the similar only difference is the language and dress code with different varieties of food, people here in this province also very friendly and open they might not speak English but they will try to help you and offer you Chai (Tea) all the time. KPK the northwestern province is Religious and people are conservative although they are friendly the hospitality of this region is above all, you will be offered to stay at their home for free and you will be fed all the time until you get fat. One thing just remember in this region never to take photos of a woman as they don't take it lightly and this is like you hit their pride if you take pictures of their women so always remember this rule for KPK province. Gilgit Baltistan this province is mixed with different ethnic groups and if you are traveling in the Hunza region these people are Agha Khanis and Friendly People. Gilgit Baltistan Province was the first province in the country to have the majority of tourists in the 1980s. They are divided into two regions one is Gilgit and the other is Baltistan Skardu side, they all are welcoming nature.
Dressing for Men & Women in Pakistan
Men wear Shalwar Qameez which is traditional dress throughout the country but you can wear Jeans and a Shirt which is also common in cities and the dress code of offices is also Pant and Shirt so you will not look like an alien If you will be wearing jeans and shirt  You can wear occasionally local dress and earn more respect from People.
Women normally wear Long shirts and trousers which are colorful and beautiful. You will see girls wearing short shirts and Jeans as well in the big cities but it's not common and not considered good in the villages or in rural areas. If you will wear the local dress you will get more respect from people.
Trekking in Pakistan
If you are planning to do trekking in Pakistan, you are going to be in love with Pakistan. it is heaven for trekkers with thousands of wild and unexplored trekking routes and mountains, Some of the Major famous Treks are (K2 Trek, Nanga Parbat Basecamp, Rakaposhi Basecamp, Rush Lake, Karomber Lake Trek) If you are going to do trekking above 6000 meters you will need to get a trekking permit and you have to engage Tour company as without that you will not be allowed to go on that trek. You would also need to apply for Trekking Visa which is separate from a normal tourist visa and details you can get from the government's official visa web portal. You can also get some more information about the trekking route from the Tripmate Application which can be downloaded from the Play Store (only available Android Version).
Major International Airports in Pakistan
Pakistan has many airports but major big airports is Jinnah International Airport in Karachi, Allama Iqbal International Airport in Lahore, and Islamabad International Airport.
Internet Availability in Pakistan
Internet is the backbone of any country in this modern time so Pakistan also has 4G Service throughout the country and Landline Internet available in Hotels and Home. You will find good internet in Big Cities and the internet in the mountains will be weaker but works. There are some famous tourist points where the internet or mobile doesn't work at all (Fairy Meadows, Deosai Plains, K2 Basecamp.
If you are planning to do trekking internet will not work on all major treks so plan accordingly.
Security Situation in Pakistan
The security situation in Pakistan is overall perfect and you can travel to a major part of the country. There are a few restricted areas where you cannot travel without obtaining NOC which are Baluchistan & Some parts of Kashmir. These are politically unstable regions so to avoid any trouble government has banned the entry of foreigners into these regions. The rest of the country is open to you and you can visit all provinces and areas away from 5-10km Borders. You will likely be given Armed Escorts free of cost in interior Sindh and South Punjab Regions so I will recommend if you are interested in history then only visit this area else you will be fed up with these armed escorts and movements controlled by the police. Once you are in Central Punjab and North you will have your freedom and you can travel anywhere without any Escort.
Now you can travel to Hingol National Park Balochistan by using a Local tour Guide from Karachi the guide can obtain NOC for you in a day or 2 and you can contact Adventure Planners Pakistan to arrange a guide and tour for you.
Best Mobile Networks in Pakistan
No particular network is best for the whole of Pakistan so you can choose one according to your traveling plan if you are traveling in central and southern regions Zong is good if you are traveling to the North specifically Gilgit Baltistan Region then SCOM is the only option with 3G/4G Internet and it can be used in the cities as well. you can buy this sim card in the mountains or you can buy it from Backpackers Hostel Islamabad.
Where a foreigner can Buy Sim Card
As a foreigner you can buy a Sim card from the official service Centers of Mobile Network Companies, as Shops or selling points cannot sell sim cards to a foreigner on their passports so don't get scammed by anyone selling sim cards on the road or at the airport as currently, No Network have any setup at airports to sell sim cards for foreigners in Pakistan. SCOM is available at Backpackers Hostel Islamabad.
Transport in Pakistan & Best Bus Companies
All cities are connected by Buses, Vans, or Through Railway Network. If you are landing in Karachi you can use Bus or Train for traveling to central cities like Lahore or Islamabad. You can experience Green Line Train which was started a few years ago and it offers good service and a comfortable journey. If you are landing in Lahore best option is Bus to reach Islamabad in the quickest way.
There are a few bus companies which are reliable and recommended here is the list according to cities. Fare of the buses are Approximate, not exact as these companies change fares often
I: Karachi-Lahore
Faisal Movers (25 USD) Executive & Business Class
Daewoo (30 USD PKR) Economy, Executive & Business Class
Bilal Travels (25 USD) Economy & Executive Class
II: Lahore-Islamabad
Faisal Movers (10 USD) Executive & Business Class
Daewoo (12 USD) Economy, Executive & Business Class
Bilal Travels (10 USD) Economy & Executive Class
QConnect (20 USD) Business Class
III: Islamabad-Gilgit-Hunza
Faisal Movers (17 USD) Executive Class
Online Transport Booking Applications in Pakistan
Daewoo and Qconnect have their own booking application and there is another one called Bookme you can download the application or book through the website  Bookme. pk for Train Tickets you can use Pakistan Railways Application or website https://pakrail.gov.pk/  they ask for CNIC to enter while booking so you can use this ID as a general to book your tickets (61101 1234567 9)
Online Taxi Applications in Pakistan
Uber and Careem are 2 major taxi apps working in Pakistan. Careem is better because in Careem you don't get many cancellations by drivers instead unlike Uber where driver cancels your ride all the time if they don't like the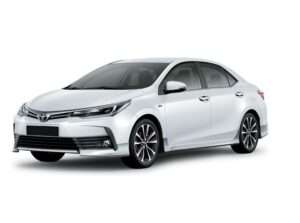 destination where you want to go. These both companies offer different ride types from Economical to Luxury One, you can also take a bike ride most economical option, and enjoy budget traveling within the city. This application works only in the big cities and is not available in the northern part.
How to get a Taxi at the Airport with no internet
When you arrive at the airport and you don't have an internet connection the best way is to use the Metro Cab service from Airport designated counter as they are reliable and not expensive. you can find their counter near the exit gate after collecting your luggage.
Vegetarian Food & Restaurants in Pakistan
Normally in the Roadside restaurant, you will find both Veg and Non-Veg Options. Pakistani people love Vegetables so you will get options for Daal and vegetables in most of the restaurants. When you want to order food ask them to make it nonspicy as normally they add more spices and fry them before serving you.
Vegan Food & Restaurants in Pakistan
Being a vegan is not common in Pakistan so you have to find places where you can get vegan food or you have to cook by yourself. Here we have a list of restaurants vegan food restaurants in different cities. you can check the below link
https://docs.google.com/spreadsheets/d/1SVlkmd9olDxNMqvVIcMFezExX_R3KgjnP8l5kU3nm4w/htmlview?fbclid=IwAR3oQIKMYu9028XpFYagnc-2xaY61tKHeDwYyPKZJwfiwa2iRq7oIbmKkYI# 
Drinking/Alcohol Consumption in Pakistan
Pakistan is a Muslim country and by Law, it's forbidden for Muslims to consume Alcoholic drinks but as a Non-Muslim you can buy alcoholic drinks from the big designated hotels (Serena, Marriot, Flashman, Pearl Continental) and drink in hotels or inside not in public spaces.
Online Food Applications in Pakistan
Food Panda and Cheetay are two applications where you can order all kinds of food online.
Hotels & Hostels in Pakistan
Pakistan is a developed country and in Major Cities, you can find all kinds of Hotels from Budget range to 5 Star.
Tourist Hostels are not common in Pakistan and there are a couple of proper hostels one is in Lahore named Lahore Backpackers and the other one is Backpackers Hostel Islamabad.
In Gilgit Baltistan, there are many budget hotels Madina Hotel 2 Gilgit, Old Hunza Inn, Sehris Guest House Skardu, and Rehman Backpackers Gulkin are a few them which accommodate Backpackers.
Car Rentals in Pakistan
You can rent a car in Pakistan with a driver, Cars without drivers are pretty expensive and mostly without insurance so the owner of rental companies doesn't want to put their vehicles at risk and only give cars to drivers, you have to pay not only rent but driver food and accommodation as well its $6 per day. You can rent a car from Adventure Planners Pakistan.
Common Scams in Pakistan
There are no major scams with tourists in Pakistan as the tourism industry is still new here and people are friendly nature. But always be cautious with regular taxis and they might overcharge you so before taking a taxi ask for the fare for the destination.
Motorbike Rentals in Pakistan
Motorbike rentals are not common in Pakistan and you can get Motorbike rentals in Islamabad from Pakistan Bikers they have a wide range of motorbikes.
You can Rent Motorbike and you will be given Helmet Complimentary. These companies offer lightweight motorbikes mainly Suzuki GS 150 and Suzuki GS 150 SE. Pakistan Bikers offer Zongshen RX3, Tekken 250, Yamaha YBR G, and CB150F also available
Overland Traveling To and From Pakistan
You can enter Pakistan from 5 Borders,
Pak-China Border, which is in the extreme North of Pakistan in the Gilgit Baltistan region and is Called Khunjerab Pass.
Wagah Border with India which is close to Lahore City.
Taftan Border: This border is 10 hours from Quetta City and connects Zahidan with Paksitan town Taftan.
Rimdhan Border with Iran which connects Gwadar Port City with Iran Bandar Abbas Port City
Torkham Border with Afghanistan Many tourists have crossed to Afghanistan recently without any trouble so it is also an option for adventure seekers but you have to obtain an Afghanistan.
The easiest border is Wagah Border with India, despite the fact of not having good diplomatic relations with India it is the easiest and most relaxed border for tourists to come in and go out.
Drone Policies of Pakistan
If you are planning to bring the drone to Pakistan you can bring it without any problem as currently, Pakistan doesn't have any policy for drones but while flying in cities be careful not to fly around military or government buildings. In some areas you need to get NOC before flying so it's always best to ask some friends or ask hotel owners about flying rules in specific regions (Hunza, Gilgit, Islamabad, Lahore, Karachi)
Tips for Solo Female Travelers in Pakistan
Many Foreigner solo travelers have been to Pakistan and they have loved the country. Women get more respect from families and are often invited into homes by families to have food with them. People will ask you for selfies quite often so it's common. You might have to deal with people staring at you but it's normal because they don't see many white foreign women so you are like an alien to them. Wear moderate clothes and it's best if you can wear local clothes as you will earn more respect and help from locals. If you are visiting KPK Province it is advised to travel with caution and take help from local friends to find hotels and transport.  Because no man will sit next to you in the bus or van if you are a woman and sometimes transporters try to avoid giving seats to women only If they see their next seat will be wasted if no other woman is booking. Overall it's all safe for Women to travel. Hitchhiking is not common and is also not considered the safest way of traveling.
Restricted Areas For Foreigner
As per the new government policy foreigners are allowed to travel to all major parts of Pakistan without any restriction and NOC excluding Baluchistan and Kashmir. In Balochistan, if the foreigner is entering from Iran he will be escorted to Quetta and then he will obtain NOC from the home department and travel further to open areas. If you are planning to visit Baluchistan for that you have to obtain NOC from the Ministry of Interior Islamabad which takes 4-6 weeks. Kashmir is partially open for foreigners with some areas which are outbound and foreigners cannot visit. Previously known as FATA which is close to the Afghanistan border is also not open but you can visit if you know someone local there.
Tourists can travel in border areas that are far from
Pak-China border (10 miles)
Pak-Afghan border (10 miles)
AJK, along Line of Control (5 miles)
GB, along LoC (5 miles)
Siachen, along Line of Actual Contact (10 miles)
Emergency Contact Numbers of Authorities
Police: 15
Rescue: 1122
Gilgit Baltistan Tourist Police: 1422
Hot Water Timings in Mountains (Economy & Economy Plus Hotels)
Evening 3 hours (6:00 pm-9:00 pm) & Morning 3 hours (7:00 am-10:00 am) this timetable varries from region to region.
In the North, Hotels have no heaters so you can ask for double blankets in case you need and some hotels will provide heating mattresses.
Check List
Immunization / Personal Medication
There are no compulsory inoculations required for entry into Pakistan. If you are taking medicine for conditions such as diabetes or heart problems, make sure you carry the necessary medicines in your hand luggage at all times, in case your main luggage is delayed.
Tipping Etiquette
For tips to the local guide and the driver is 2-3 USD per day minimum. However, you are most welcome to give more as your wish based on their service. This amount may be small to us but considered valuable for them, Other tipping is discretionary.
For hotel and restaurant staff, you can give to them directly with a minimum of 200-500 PKR, If they help you in any way and you are happy with it.
Photography
Generally, countries are friendly for photographers. However, there are certain places where photographing is restricted: military objects, police check points, and airports. In the Northern Pakistan region, it is advisable to get permission first if you want to take pictures of local women as this sometimes can be sensitive issue within their community.
Voltage
The voltage in the region is a standard voltage of 220 V and the frequency is 50 Hz. They use type C (2 round pins) and type D (3 round pins).
Suitable Clothing in Pakistan for travelers
Comfortable and solid walking shoes with strong soles and support are essential. If you are traveling to the North must bring warm clothes, sweaters, Jeans, a Rain jacket, Scarf, Cotton socks & walking shoes, but also some T-shirts with long and short sleeves to remain safe from UV rays, and thin cotton trousers. A bit for every occasion
Sanitation in Pakistan
Indian and English Seats are available in Pakistani Toilets in hotels but public toilets on Indian seats will be found.
The temperature in Pakistan
March-April
The daytime average in Northern Pakistan can be around 10-15 Celsius.
The night-time average in Northern Pakistan can be around 5-10 Celsius.
In Islamabad, will be around 15-25 Celsius.
May-June-July-August
The daytime average in Northern Pakistan can be around 25-35 Celsius.
The night-time average in Northern Pakistan can be around 25-30 Celsius.
In Islamabad, will be around 35-40 Celsius.
Sep-Oct-Nov
The daytime average in Northern Pakistan can be around 10-15 Celsius.
The night-time average in Northern Pakistan can be around 5-10 Celsius.
In Islamabad, will be around 15-25 Celsius.
Dec-Jan-Feb
The daytime average in Northern Pakistan can be around 0- -5 Celsius.
The night-time average in Northern Pakistan can be around -5 – -10 Celsius.
In Islamabad, will be around 03-08 Celsius.
Please take note, when we reach Khunjerab Pass (4793 meters) temperature can drop to 1 Celsius or even sub-zero at any season, hence warm clothing is a MUST while visiting Khunjerab Pass, even if you only visit there for less than 1 hour for photos.
Please let us know If you have any queries will try our best to reply soonest possible. Thanks and have a great day all!