Prince William and Kate Middleton visit spectacular glacier & Kalash village in Pakistan The Duke and Duchess continue with their tour.
The Duke and Duchess touched down at Chitral airport on Wednesday, where they were given a very warm welcome. They were presented with a book that featured photos of Princess Diana's visit to the area in 1991, as well as embroidered coats.
The Duchess opted for an autumnal look, wearing a midi brown skirt with a dark brown top and waistcoat by Really Wild. She had her hair styled halfway up, and kept her makeup natural and simple.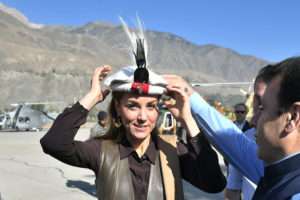 Kate was gifted a shawl to keep her warm during the glacial visit, and a striking hat with peacock feathers. When Diana visited in the nineties, she was also given a feathered cap.
During her visit in 1991, Princess Diana was made an honorary member of the Chitral Scouts' elite corps, posing for photographs wearing a regimental embroidered coat and feathered cap they presented her with.
The royals then boarded their helicopter again to travel to the breathtaking Broghil National Park. The park is situated in the Chitral District of Pakistan's Khyber-Pakhtunkhwa Province.
The royals were introduced to Pakistani hydrometeorologist and glacier expert, Dr Furrukh Bashir of the Pakistan Meteorological Department. They were given a detailed briefing on glacial melting, climate change and its causes and implications.
William and Kate, who had never seen a melting glacier in person, then walked around the northern tip of the remote Chiatibo Glacier, and saw how it has retreated in recent years as a result of global warming.
\
Before they departed the district, William and Kate visited a settlement of the Kalash people to learn about their community, heritage and traditions.
The Duke and Duchess were both given traditional headwear upon arrival and were caught gazing into each other's eyes.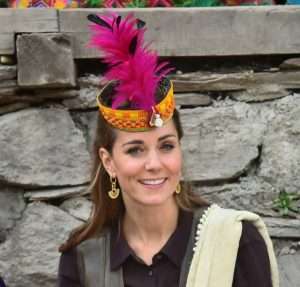 Kate, wearing gold earrings by Missoma, said she had "been very impressed by William's geography," while visiting the glacier earlier in the day. The Prince graduated from St Andrews University in 2005 with a 2:1 in his geography degree.
The Duke said: "Dr Warren my geography teacher would be well impressed that I'm back at a glacier after all these years."
Kate and William took time to meet as many people as they could during their visit to the village. The Kalash community are considered to be Pakistan's smallest ethno-religious group and have their own unique culture.
The couple watched a stunning and colorful celebration from the Kalash people in the village square.
Kate clapped and cheered as the couple received a colorful welcome to the village.